Jij hebt ook altijd wat! – Hoop en wilskracht zijn sterker dan seksueel misbruik en een beenamputatie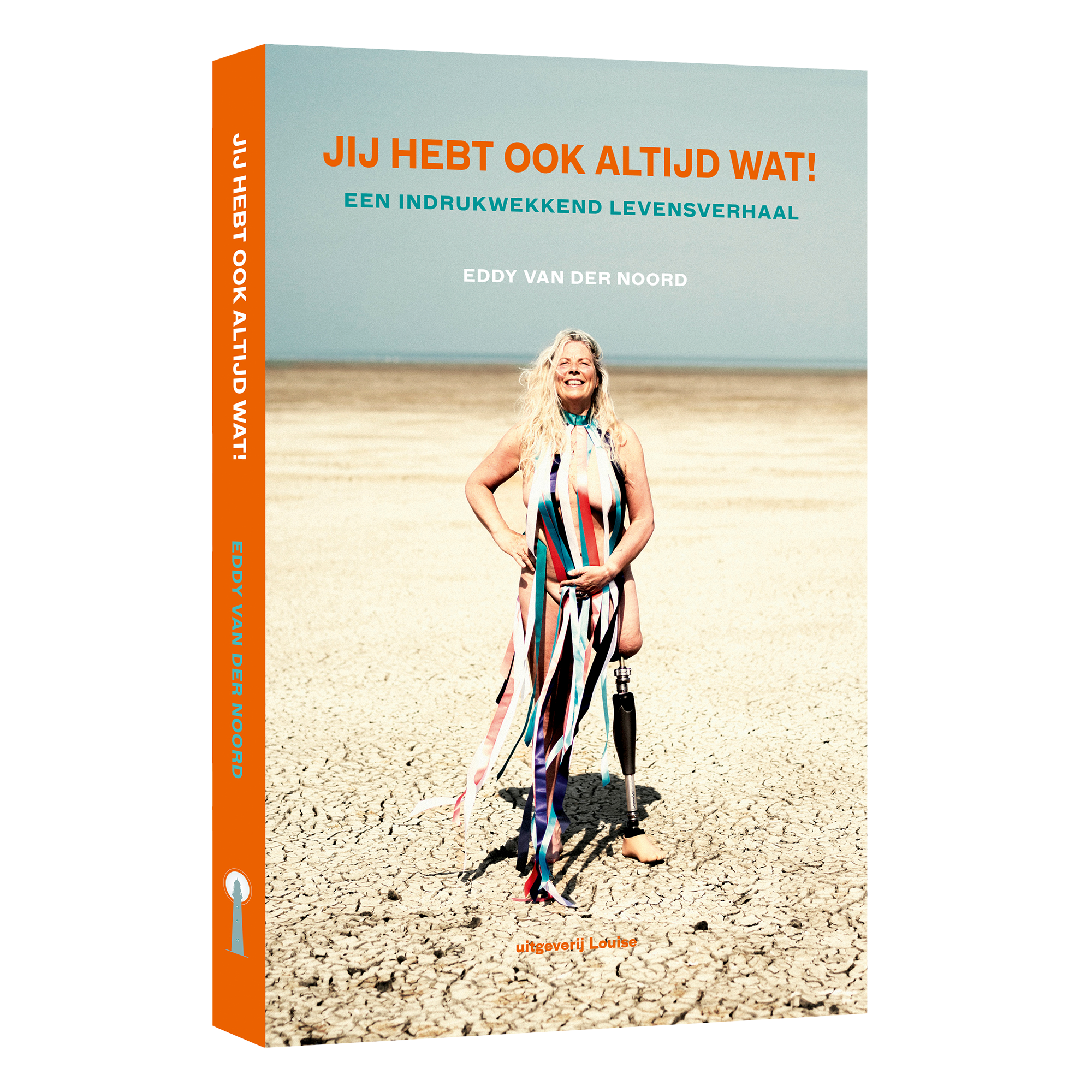 Persbericht  NL:  
Jij hebt ook altijd wat! – Hoop en wilskracht zijn sterker dan seksueel misbruik en een beenamputatie
Op maandag 10 oktober werd in het Radboudumc te Nijmegen het boek Jij hebt ook altijd wat! gepresenteerd. Het is het bewogen levensverhaal van Pietsje Hannema (1967) en geeft een openhartig inkijk in haar leven; een leven getekend door een liefdeloze opvoeding en een beklemmende macht van haar moeder, door jarenlang seksueel misbruik door haar zwager en door een beenamputatie die haar in een sociaal isolement stort. De kokerprothese die ze aanvankelijk draagt, geeft haar niet de vrijheid waarnaar ze verlangt. Een artikel over osseointegratie verandert haar leven. Als eerste vrouw in Nederland krijgt Pietsje in 2010 een botverankerde prothese, die haar na een traject van ruim zeven jaar verandert in een zelfbewuste, krachtige vrouw. Een vrouw die weer volop in het leven staat en een voorbeeld is voor mensen die getekend zijn (of worden) door misbruik of een amputatie.
Pietsje Hannema is nu expertpatiënt in het Radboudumc voor toekomstige osseointegratiepatiënten en ambassadrice voor het bedrijf Xilloc, leverancier van de Nexus, een koppeling tussen de titanium pin in het dijbeenbot en de prothese. En ze loopt de Nijmeegse Vierdaagse!
Voor mij als auteur staat de hoop en wilskracht van Pietsje als mens centraal in dit boek. Hoeveel tegenslag je ook krijgt, door hoop en wilskracht, de liefde van je naasten (in haar geval haar man Sjoerd en de kinderen) en door medische innovaties en gedreven medici, kun je elke tegenslag overwinnen.
Pietsje is het levende voorbeeld. Ik heb daar grote bewondering voor en hoop dat door dit boek en haar openheid mensen die seksueel zijn misbruikt of die een amputatie hebben moeten ondergaan, er herkenning, erkenning en hoop uit putten.
Wilt u meer informatie, een exemplaar of een interview met de auteur of Pietsje Hannema inplannen, dan kunt u contact opnemen met:
Eddy van der Noord:  06-54983002
Jij hebt ook altijd wat!
Auteur Eddy van der Noord
Uitgeverij Louise
240 pagina's
ISBN 978-94-91536-95-3
19,50 euro
Beste hier uw exemplaar
Press release EN:
Jij hebt ook altijd wat! – Hope and willpower are stronger than sexual abuse and a leg amputation
On Monday October 10, the book "Jij hebt ook altijd wat!" (You always have something!) was presented. It is the eventful life story of Pietsje Hannema (1967) and gives a candid insight into her life; a life marked by a loveless upbringing and an oppressive power of her mother, by years of sexual abuse by her brother-in-law and by a leg amputation that plunged her into social isolation. The socket prosthesis she initially wears does not give her the freedom she longs for. An article about osseointegration changes her life. In 2010, Pietsje was the first woman in the Netherlands to receive a bone-anchored prosthesis, which, after a process of more than seven years, changed her into a self-confident, powerful woman. A woman who is fully alive and sets an example for people who are (or will be) scarred by abuse or an amputation.
Pietsje Hannema is now an expert patient at Radboudumc for future osseointegration patients and ambassador for the company Xilloc, supplier of the Nexus, a innovative and unique coupling between the osseointegrated titanium femoral implant and the prosthesis with which she walks the Famous Walk of the World! (The Nijmeegse Vierdaagse)
For me as the author, the hope and willpower of Pietsje as a person stands central in this book. No matter how much setback you get, through hope and willpower, the love of your cherished ones (in her case her husband Sjoerd and the children) and through medical innovations and passionate doctors, you can overcome any setback.
Pietsje is the living example. I greatly admire that and hope that through this book and her openness, people who have been sexually abused or who have had to undergo an amputation will gain recognition, acknowledgment and hope from it.
If you would like more information, a copy or schedule an interview with the author or Pietsje Hannema, please contact:
Eddy van der Noord:  06-54983002
You always have something too!
Author Eddy van der Noord
Publisher Louise
240 pages
ISBN 978-94-91536-95-3
19.50 euros
Order yours here